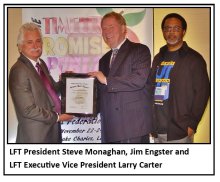 (Lake Charles – November 23, 2015) Influential radio host Jim Engster was recognized by the Louisiana Federation of Teachers today for his coverage of education issues in the state.
Engster, whose afternoon program, The Jim Engster Show, is broadcast on radio stations across the state, accepted the Federation's School Bell Award for Excellence in Education Journalism. The award is presented to journalists for outstanding efforts in promoting better understanding of education issues.
Known for his scrupulously fair interviewing technique, Engster is the polar opposite of the typical talk show host. He doesn't allow name-calling or shouting on his program, and his low-key delivery makes his guests comfortable in the studio. That allows him to ask probing, intelligent questions without seeming to offend his guests.
It was Engster's easygoing style that prompted Rep. John Bel Edwards to first announce his plan to run for governor on The Jim Engster Show.
When it comes to education issues, nobody is able to get all of the sides of an issue presented as well as Jim Engster. His bulging Rolodex, his multitude of personal connections and his reputation as a straight shooter ensure that his listeners will hear a thoughtful, well-rounded discussion of important matters. This year in particular, the audience of The Jim Engster Show came away well informed about the issues of payroll deduction of union dues and the controversy over Common Core State Standards. Thanks to his effort, the discussions went beyond slogans and easy talking points, giving the public the full understanding that these issues deserve.
The LFT School Bell Award for Excellence in Education Journalism was presented at the Federation's 51st annual convention at the Golden Nugget Hotel and Casino in Lake Charles.