The Louisiana Federation of Teachers mourns the passing of Elsie Burkhalter, who founded the St. Tammany Federation of Teachers and School Employees and served as Vice President of both the LFT and the American Federation of Teachers.
Burkhalter, who passed away on Saturday, December 10, was a tireless fighter for the rights of teachers and school employees. From the moment she organized the St. Tammany Federation of Teachers and School Employees in 1979 until her retirement in 2015, she focused relentlessly on the goal of collective bargaining.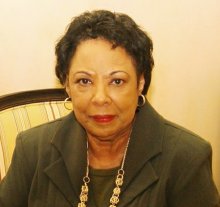 Her first goal was to grow the local union until it was the largest in the parish, and she succeeded in that. She formed coalitions with other organizations, built a presence in the news media, and worked to elect school board members who were favorable to a contract with employees.
She took a big step in 1991, when teachers, paraprofessionals, custodians and maintenance workers all voted to make the Federation their exclusive representative. Two years later, her goal was fully realized when bus drivers and aides, food service employees and school secretaries also voted to be represented by the Federation. Under her leadership, the St. Tammany Federation became one of the first in the nation to represent all non-management employees "wall-to-wall" under a collective bargaining agreement.
Burkhalter's service was wide-ranging. She served as a member of the Slidell City Council, as an 18-year member of the University of Louisiana Board of Supervisors (including two years as its chair), as an official of the Democratic Party, as a delegate to multiple national Democratic conventions and as a vice president of the Louisiana AFL-CIO.
She was involved in numerous organizations such as the Workforce Investment Board, Louisiana Center for Women in Government and Business, Slidell Women's Civic Club and the League of Women Voters. She was honored by the Louisiana Democratic Party with a Lifetime Achievement Award.  Elsie Burkhalter always made service to others the hallmark of her career.
A wake service will be held on Sunday, December 18, at the Slidell City Auditorium, 2056 2nd Street in Slidell. Visitation from 5:00 P.M. to 9:00 P.M., with services from 7:00 to 8:00 P.M.
A Mass of Christian Burial will be held at Our Lady of Lourdes Catholic Church on Monday, December 19, at 3924 Berkley St. in Slidell. Viewing from 9:30 until 11:00 A.M., with Mass at 11:00 A.M.