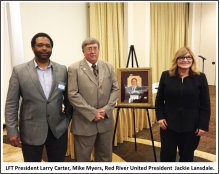 Two stalwart Louisiana Federation of Teachers leaders were named to the Louisiana AFL-CIO Hall of Fame in ceremonies held at the union's annual convention on March 20. Mike Myers of Shreveport and the late Elsie Burkhalter of Slidell were among inductees at the ceremony.
Elsie Burkhalter's induction was introduced by St. Tammany Federation of Teachers and School Employees President Debbie Green. Burkhalter served as president of the St. Tammany Parish local chapter from its inception in 1979 until her retirement in 2015.
In 1991, her local won the first of a series of collective bargaining contracts that led to St. Tammany being one of the few school systems to have wall-to-wall bargaining for all non-administrative employees. She was also a vice president of the Louisiana Federation of Teachers and American Federation of Teachers.
Her public service was wide and varied, including terms on the Slidell City Council and the Louisiana University Board of Supervisors, where she became the first African American woman to serve as chairperson. She was a vice president of the Louisiana AFL-CIO and an official of the Louisiana Democratic Party.
Mike Myers was introduced by Red River United President Jackie Lansdale. His service to the union began in 1992 as a charter member of the Caddo Federation of Teachers.
As membership chair of the local, Myers helped the Federation grow to become Red River United, comprising Bossier, Caddo and Red River Parishes. Red River United is now the fastest growing education union in the Southeastern United States.
He serves as a vice president of the Louisiana Federation of Teachers and 1st Vice President of Red River United. He has worked for his union as a lobbyist at the capitol in Baton Rouge.
After working for the FBI in Washington, D.C., Myers returned t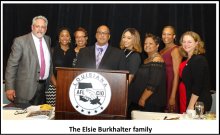 o Louisiana to begin a career as a special education teacher at Byrd High School in Shreveport, where he taught for 33 years. For the last three years, he was the Lead Special Education teacher.
Described by President Lansdale as "the world's most interesting man," Myers is an avid SCUBA diver, Fifth Degree black belt in karate, and also prepares taxes for people in need of assistance.