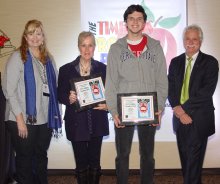 (Lake Charles - November 22, 2015) Collin McInnis, a senior at Sam Houston High School's LCB Academy in Lake Charles, is the designer of the Louisiana Federation of Teachers' 2015 holiday greeting card. Collin's art teacher is Bobbi Yancey.

The announcement was made at the 51st annual LFT convention, held November 22-24 in Lake Charles at the Golden Nugget Casino and Hotel. Plaques including the student's art work were presented to Cheeks, his school and the Calcasieu Federation of Teachers.

From left in the photo above are Calcasieu Federation of Teachers President Teri Johnson, art teacher Bobbi Yancey, student Collin McInnis and LFT President Steve Monaghan.