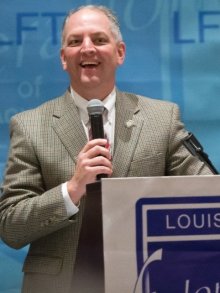 It was only natural. The Louisiana Federation of Teachers was the first organization to publicly endorse Governor-elect John Bel Edwards in what seemed like a long-shot bid for the governor's mansion. Edwards returned the favor on November 22, when he made his first public address since the election to the LFT's 51st annual convention in Lake Charles.
"There were many people who didn't believe it was possible," said the Governor-elect. "And there were only a few who thought it was possible. But I count among those few everybody who's sitting in this room today."
Edwards entered the room like a rock star, with the theme from "Rocky" blaring and hundreds of teachers and school employees waving happy face signs.
The governor-elect told convention delegates that his main mission will be to "improve education on all levels," and pledged ensure that educators are consulted as his agenda unfolds. He promised to be inclusive in his administration.
"I need your help. Change is not easy. I am going to work with everyone. I mean it when I say I will be the governor of all the people, whether they voted for me, against me, or whether they didn't vote," he said.
Public education was a powerful influence on his life, Edwards told the convention.
"Whatever success I have had in my life...I've attributed to my teachers. I respect teachers and know what a powerful role teachers' play," he said. "We have to band together. I still believe in the power and promise of public education."
Confronting an issue that has been a main source of dissatisfaction in the teaching corps, Edwards promised to give teachers a bigger role in determining evaluation standards.
"If you want the best results in the classroom, have the best prepared, the best resourced, the best motivated teachers leading the class," he said, "And you can't do that with a state governor who is always unfairly blaming our teachers for all of our problems. That stops."
Over the past eight years, Edwards said, too much authority has been taken away from local school districts and usurped by Baton Rouge.
"We've got to stop substituting the opinion of the BESE board in Baton Rouge for school boards at the local level when those school districts are performing well under our own accountability system," he said.
While the governor-elect said he will not try to ban charter schools, he argued for more local control over issuing charters.
"In those districts that perform well under our accountability system, the final decision as to whether a new charter school opens ought to rest with that school board. It's just that simple," he said.
Edwards also brought up the topic of vouchers, which he voted against in the legislature. Edwards was a main witness in the LFT's lawsuit challenging the legality of funding vouches via the state Minimum Foundation Program.
"I don't have a goal to take that voucher program off the books completely, but we are going to conform it to its stated purpose," he said, "It's stated purpose was to provide a choice to parents whose kids were trapped in failing schools. A 'C' school is not a failing school."
Watch Gov.-elect Edwards' speech to the LFT convention here.