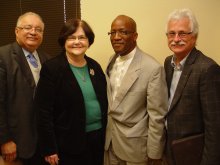 LFT President Steve Monaghan congratulates, from left, Thomas Roque, Doris Voitier and Lurie Thomason after they were introduced as Gov.-elect John Bel Edwards' appointees to the Board of Elementary and Secondary Education.
(Baton Rouge - January 5, 2016) Governor-elect John Bel Edwards today announced his three appointments to the State Board of Elementary and Secondary Education.

Named to the state's highest education board were Thomas Roque, Lurie Thomason and Doris Voitier.

Roque is superintendent of schools for the Catholic Diocese of Alexandria. He formerly served as an assistant superintendent of the Rapides Parish school system.

Thomason is a professor at Grambling State University, teaching criminal justice.

Voitier is currently the superintendent of schools in St. Bernard Parish. She also serves as president of the Louisiana Association of School Superintendents.

The three will join BESE's eight elected members at next week's meeting of the state board. They replace outgoing Gov. Bobby Jindal's appointees, Connie Bradford, Dr. Judith Miranti and Jane Smith.