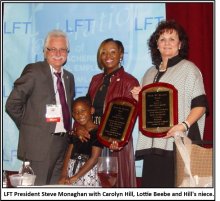 (Lake Charles – November 23, 2015) Dr. Lottie Beebe and Carolyn Hill were named today as the Louisiana Federation of Teachers' Friends of Education for 2015. The Friend of Education Award is the highest honor that the Louisiana Federation of Teachers bestows on non-members of the union. It is presented to individuals who have made an outstanding contribution to public education.
Beebe, who represents District 3 on the Board of Elementary and Secondary Education, and Hill, who represents District 8, were recognized as the only elected members of the state education board to consistently uphold the values of public education during the Jindal years.
Beebe and Hill were consistent champions of teachers, parents and children, arguing against the flawed implementation of Common Core standards, unfair and inaccurate teacher evaluations, and school letter grades that stigmatize schools as a pretext for state takeover.
The pair were critical of the State Department of Education's management style, pointing out a lack of transparency that resulted in numerous freedom of information lawsuits filed against the department and Superintendent of Education John White.
They were often heard as voices in the wilderness, decrying the state board's apparent bias in favor of privatized and for-profit education services.
Both were unseated in the 2015 elections after being inundated by millions of dollars in campaign spending by big business interests. Out-of-state billionaires and the Louisiana Association of Business and Industry made it their mission to defeat pro-public education members in a campaign noted for vicious and untruthful attacks on Beebe and Hill.
The award was presented by LFT President Steve Monaghan at the Federation's 501st annual convention in Lake Charles on November 23.