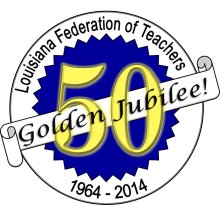 (Baton Rouge – November 19, 2014) American Federation of Teachers President Randi Weingarten will be the keynote speaker at the Louisiana Federation of Teachers' 50th Annual Convention awards luncheon on Monday, November 24, 2014.
LFT will celebrate its Golden Jubilee at the New Orleans Marriott Hotel, 555 Canal Street, in New Orleans, from Sunday, Nov. 23 through Tuesday, Nov. 25.
Other highlights of the convention will include LFT President Steve Monaghan's State of the Union address and a report on the state budget by Louisiana Budget Project Executive Director Jan Moller.
The annual convention is the Federation's chief policy-making body. It comprises delegates elected from among the union's 20,000-plus members.
Convention events of public interest will include the following:
Sunday, November 231:00 P.M.
: Opening session: presentation of Union Values in Action Awards and LFT Holiday Greeting Card
Monday, November 24

9:00 A.M.: Morning Session: State of the Union Address by LFT President Steve Monaghan

Presentation of School Bell Awards for Excellence in Education Journalism

12:30 P.M.: Awards luncheon
Keynote address by AFT President Randi Weingarten

Recognition of outstanding legislators

Presentation of Federation awards:

Friend of Education: State Representative John Bel Edwards

Pioneer Awards

President's Award

Tuesday, November 25

8:30 A.M.: Convention Breakfast

Keynote Address: Louisiana Budget Project Executive Director Jan Moller

"The State of Louisiana's Budget"