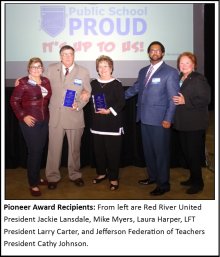 (Shreveport – November 18, 2017) Jefferson Parish paraprofessional Laura Harper and Caddo Parish teacher Mike Myers today received Pioneer Awards from the Louisiana Federation of Teachers. The award is presented annually to individuals who, over the years, made major contributions to the growth and influence of the LFT.
In presenting the awards, LFT President Larry Carter said, "These two Federation members, from each end of the Louisiana, represent what is best about education unionism. They both dedicated their professional lives to the children they served, and worked to build the LFT into the largest and most effective advocate for teachers and school employees in the state."
For more than 30 years until her retirement, Laura Harper was a loyal member of the Jefferson Federation of Teachers. During her career, she was responsible for changing the job title from "teacher aide" to "paraprofessional" while on the team that wrote the statewide Para Handbook. She was instrumental in forming the Paraprofessional and School Related Personnel Committees of both the Jefferson Federation and Louisiana Federation of Teachers, and has served as chairperson of both committees. She has been a member of the JFT and LFT Executive Boards.
Laura dedicated countless hours to teaching paraprofessionals across the nation as a volunteer trainer for the American Federation of Teachers. Her contributions as a political activist are legendary, and in 2005 she received the LFT's Mother Jones Award for her advocacy of school employees in the public arena.
She remains active as a founding member of the Jefferson Federation of Teachers Retiree Chapter, and maintains her LFT role as chair of the LFT/PSRP Committee.
Mike Myers is a retired 33-year veteran teacher, and a charter member of the Caddo Federation of Teachers, which has grown into the umbrella union Red River United, serving Caddo, Bossier and Red River Parishes. As a special education teacher, his professional career was dedicated to our most vulnerable children.
Mike has served as an executive board member at large, first vice president, and is the current retiree vice president of Red River Unite, and is a longtime member of the LFT Executive Board. He continues to serve as a delegate to the Central Trades and Labor Council.  Last year, he was named to the Louisiana Labor Hall of Fame.
After retiring from teaching, he assisted his local chapter as a lobbyist in the Louisiana Legislature. There he worked to protect the rights of retirees, and worked for the passage of several important legislative acts.
Mike put his computer expertise to work to ensure that Red River United has the most advanced technology available, as well as a locally enhanced benefit package.
The awards were presented during the 53rd annual convention of the LFT, held at the Shreveport Convention Center.