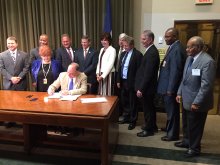 Leaders of the LFT and the LAE applaud the Louisiana Legislature for granting a cost-of-living adjustment (COLA) to current retirees of the Louisiana public school system.
"We commend the Louisiana Senate and House of Representatives for unanimously approving this modest increase that will have a major impact on the financial stability of our state's retired public servants," said LAE President Debbie Meaux.
"A special thanks goes out to Governor Edwards for signing the bill into law."
"In many parishes, income from retirees is a major driver of the local economy," said LFT Chief of Staff Marcus Fontenot. "Retirees will have a little more money to spend in their communities, helping to expand the economy and build the tax base."
Governor Edwards signed Senate Bill 2 into law Thursday, which will initiate an average increase of about $30 a month in pension pay for members of state retirement systems including the Teachers' Retirement System of Louisiana (TRSL) and the Louisiana School Employees' Retirement System (LSERS). The increase becomes effective the first of July; future COLAs will be determined based upon available funds.
"It's important to note that this COLA does not increase the debt of the retirement systems," Fontenot said. "The money comes from investment growth in the retirement systems' experience accounts. We look forward to working with Governor John Bel Edwards and the Legislature to ensure more cost-of-living adjustments in the future."
"It is crucial that we continue to acknowledge the work of our retired teachers and school employees by keeping their retirement pay aligned to the costs of living here in Louisiana," Meaux said. "We hope lawmakers agree and make the funding of COLAs a priority in future legislative sessions."