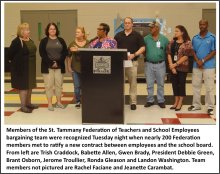 (Covington – October 20, 2016) Nearly 200 teachers and school employees met Tuesday night to unanimously approve a new contract between the St. Tammany Federation of Teachers and School Employees and the parish school board.
"We are pleased and humbled by the trust that teachers and school employees have shown for us through the contract negotiations," said St. TFT/SE President Debbie Green. "We have demonstrated our process works in the best interests of the school board, its employees and all the children that we serve."
The new contract includes a $1,000 stipend for teachers, and a $700 stipend for all other employees. Teachers rated "highly effective" will receive an additional $500 stipend. Teachers who received an advanced degree will receive $500 which will go into their base pay. The checks will be delivered in the next few weeks.
In addition, the contract calls for new salary negotiations to begin next March. At that time, Green said, the Federation will ask that new raises be included in the salary schedules for all teachers and school employees.
Also, the Federation will ask that salaries which have been frozen since 2012 be unfrozen, and that all personnel be placed on the correct salary level by July 1, 2017, Green said.
Members at last night's meeting voted to circulate a petition directing negotiating teams for both the Federation and the school board to place any available funds into the permanent salary schedules. That would guarantee that the money cannot be considered a one-time payment to employees.
The school board unanimously ratified the contract at its October 13 meeting.
The St. Tammany Federation of Teachers and School Employees has been the bargaining agent since 1991 for teachers, paraprofessionals, custodians and maintenance employees. In 1993 bus drivers and aides, food service employees and school secretaries were included in the collective bargaining agreement.