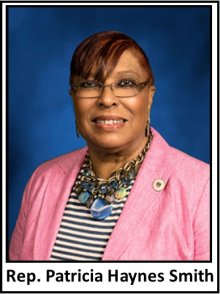 State Representative Patricia Haynes Smith has been named the Louisiana Federation of Teachers' Friend of Education for 2017. The Friend of Education Award is the highest honor that the Louisiana Federation of Teachers bestows on non-members of the union. It is presented to individuals who have made an outstanding contribution to public education.
Rep. Smith represents Baton Rouge's District 67 in the legislature.
In announcing the award, LFT Legislative and Political Director Cynthia Posey said, "Rep Smith has been a longstanding advocate for public education.  On the House Education Committee she has always put the best interests of our children first and has been a champion of teachers and school employees."
Following a teaching career, and after serving two terms as president of the East Baton Rouge Parish School Board, she was elected to the House of Representatives on pledges to work tirelessly for the children of the state.
Currently serving her third term in the House of Representatives, she was re-elected opposition in 2015. As a member of the House Education Committee, Rep. Smith has been a forceful and passionate advocate for public education.
Along with the Education Committee, Rep. Smith also serves on the Appropriations, Joint Legislative Committee on the Budget, and Municipal, Parochial and Cultural Affairs committees.
Rep. Smith is married to Freddie Smith, Jr. They have six children and 12 grandchildren.
The award was announced at the Federation's 53rd annual convention in Shreveport on November 19.