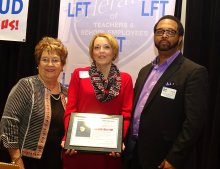 Robin Herrin, a member of the Red River United chapter of the Louisiana Federation of Teachers, was announced as the recipient of the LFT's Mother Jones Award at the LFT's annual Paraprofessional and School Related Personnel Conference, held February 3, 2018 at the Baton Rouge Crowne Plaza Hotel.
The annual PSRP Conference recognizes the contributions of school support staff. It includes professional development workshops, briefings on important legislative and educational issues, and awards to honor the achievements of members. This year's conference was held in conjunction with the Federation's legislative issues meeting, featuring an address by Gov. John Bel Edwards.
Named in honor of the famed union organizer and self-proclaimed hell-raiser, the Mother Jones Award is presented to Federation members who are dedicated to the cause of education unionism.
Herrin is a paraprofessional at Sun City Elementary School in Bossier City. From left in the photo are LFT/PSRP Chair Laura Harper, Robin Herrin and LFT President Larry Carter.