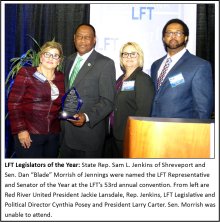 (Shreveport – November 19, 2017)  State Senator Dan "Blade" Morrish and Representative Sam L. Jenkins were named the Louisiana Federation of Teachers' Senator and Representative of the Year today at the LFT's 53
rd
annual convention in Shreveport. The lawmakers were honored for their commitment to public education and the teachers and school employees who dedicate their careers to the children of our state.
Sen. Morrish represents Southwest Louisiana's District 25, and Rep. Jenkins represents Shreveport's District 2.
As chairman of the Senate Education Committee, Sen. Morrish's support for public education has been a breath of fresh air on a panel that formerly was reliably allied with a school privatization agenda. He authored a bill (SB 95) that put sensible restraints on a tax rebate for private school tuition donations. Prior to its passage, businesses and wealthy contributors could actually receive a tax rebate amounting to more than the amount of their donation. Sen. Morrish shepherded a compromise agreement that reduced the Value Added Model's impact on teacher evaluations. He authored resolutions creating a task force to study the popular but expensive TOPS scholarship program, and to reconvene an MFP Task Force to study the way public education funds are distributed to local school systems.
In presenting the award, LFT Legislative and Political Director Cynthia Posey said, "Sen. Morrish has consistently stood with teachers and support employees as special interest groups have sought to erode Louisiana's public -school system."
Rep. Jenkins, serving his first term in the legislature, has already made an impact as an advocate for children and public education. Rep. Jenkins voted to protect funds dedicated to education, to make factors for teacher evaluations better reflect the makeup of the schools, allow school employees to receive contributions for disaster relief, limit testing time and other measures which reflect his commitment to Louisiana's public schools.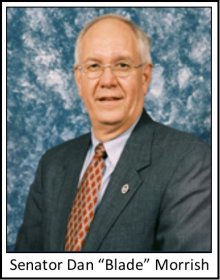 "As a first term legislator, he has quickly made public education a top priority by fighting to protect public education funding and supporting legislation that puts the needs of educators and children first," Posey said.
The LFT convention was held November 18-20 at the Shreveport Convention Center.