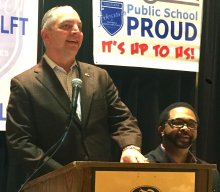 Governor John Bel Edwards has announced his education agenda for the regular legislative session that opens on Monday, March 12, and ends on June 4. The governor's agenda includes reasonable, fair changes to the teacher tenure process and teacher evaluation.
As chair of the Southern Region Education Board, Gov. Edwards leads the collaborative work of governors, legislators and state education leaders to improve public education at every level, from early childhood through doctoral education.
"We talk about the importance of education often, but we don't do right by our schools, teachers and students often enough," said Gov. Edwards. "I am proud to partner with legislators who are pairing action with values in order to tackle the real challenges before us when it comes to improving k-12 education in Louisiana."
House Bill 587 by Rep. Frank Hoffmann (R-West Monroe) allows teachers to acquire tenure if they have ratings for five (out of six) years of "effective: proficient" or "highly effective". Currently a teacher needs a rating of "highly effective" for five (out of six) years.
House Bill 651 by Rep. Frank Hoffmann (R-West Monroe) reduces the percentage of a teacher's evaluation that is based on growth in student achievement from 35 percent to 15 percent.
Senate Bill 152 by Sen. Blade Morrish (R-Jennings) requires the Board of Elementary and Secondary Education to report two sets of school- and district-performance scores in years when the calculation formula for these scores have changed.
Senate Bill 205 by Sen. Gerald Boudreaux (D-Lafayette) provides requirements in the areas of transparency and accountability for for-profit organizations that manage Type 2 Charter Schools.