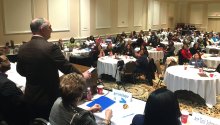 Governor John Bel Edwards was the featured speaker at the Louisiana Federation of Teachers' Paraprofessional and School Related Personnel conference, held on February 3, 2018, at the Baton Rouge Crowne Plaza Hotel. This year's conference was held in conjunction with the Federation's annual legislative issues meeting.
The governor told Federation members about the budget challenges facing the state this year, expressing a hope that our legislature will not become as contentious and divided as the national Congress, where he said that "people refuse to sit down and talk to each other."
Gov. Edwards aid that he is trying to meet lawmakers halfway to resolve the looming $1 billion budget cliff, and create a budget that's "stable, predictable and fair."
The governor pledged to protect funding for public education's Minimum Foundation Program.
Click here to view the governor's speech in its entirety.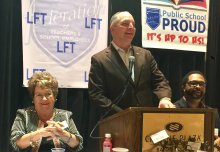 LFT/PSRP Chair Laura Harper, left,and President Larry Carter greeted Governor John Bel Edwards at his address to the Louisiana Federation of Teachers' PSRP Conference and legislative issues meeting.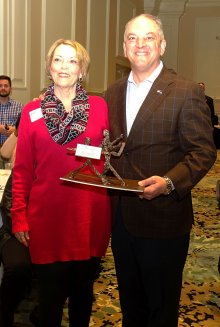 Table decorations for the conference were the handiwork of third grade STEAM students at Bossier City's Sun City Elementary School. The governor, whose wife, Donna, is a teacher and LFT member, congratulated paraprofessional Robin Herrin on her class's effort.